As the price of fuel is now on the high side in Nigeria, Innoson Vehicles Manufacturing (IVM) Company has presented more CNG (Compressed Natural Gas) and LNG (Liquefied Natural Gas) powered vehicles to the Nigerian market.
IVM's unique ability to make use of CNG is because it is more affordable than diesel and petrol hence will enhance transportation at a reduced cost.
Why Innoson Is Showcasing Her CNG and LNG Powered Vehicles Aggressively
This is following the confirmation of fuel subsidy removal by President Bola Ahmed Tinubu which has led to the hike in price to over 300%.
Who Is Innoson Vehicles?
Innoson Vehicle Manufacturing (IVM) Company Ltd is Nigeria's indigenous first Made-in-Nigeria Vehicles has displayed more CNG and LNG powered vehicles.
The company was founded by Chief Dr. Innocent Chukwuma who started with no investor but went to the Bank of Industry to get loan in kick-starting the business.
How IVM Started Manufacturing Cars In Nigeria
Chukwuma pioneered the first Made-in-Nigeria Motorcycle brand that sold for as low as ₦60,000.
According to the company's website – innosonvehicles.com by year 2002, they had successfully driven out tokunbo (foreign used) motorcycles out of Nigeria forever described.
The founder on how Innoson started explained thus:
"When we started, I started with nothing in terms of investors but I went to the Bank of Industry, did a presentation for them and they accepted to help. Most of the equipments I buy for my factory is from them. So go ahead and launch that production company. I will buy materials or parts from you once you begin…"
When Was IVM's LNG and CNG Automobiles Launched in Nigeria?
On the 20th of April 2023, IVM unveiled its latest innovation, the Innoson LNG/CNG Gas Truck, Bus and Cars at the IVM factory located in Nnewi, Anambra State.
The liquified natural gas and compressed natural gas powered vehicles was launched by the president of Manufacturers Association of Nigeria (MAN), Otunba Francis Meshioye.
According to Chief Dr. Innocent Chukwuma, the founder of the company,
The CNG and LNG buses are part of Innoson Vehicles' commitment to promoting environmentally friendly transportation in Nigeria.

They are designed to reduce carbon emissions and improve air quality while providing a comfortable and safe ride for passengers.
Governments Using IVM Vehicles in Nigeria and Abroad
Chukwuma Soludo – he is the first Governor in Nigeria to use locally-made Innoson Vehicles. His official car is the Innoson G80 SUV.
Alex Otti – the newly Sworn-In 5th Abia State Governor rode in the Innoson-based Parade Car during his inauguration ceremony during his inauguration on Monday, May 29th 2023.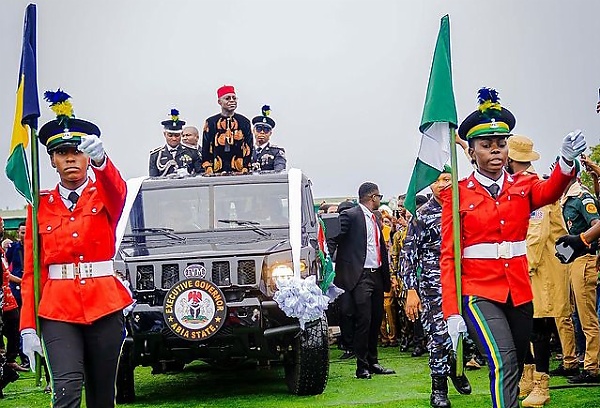 Sierra Leone – in November 2022, the government made an order worth $4.7m making it the first West African country to buy from the company.
What Is Compressed Natural Gas (CNG)?
CNG is considered an eco-friendly fuel source and is becoming increasingly popular as a fuel for vehicles, particularly in countries where natural gas is abundant.
According to spinny.com, Compressed Natural Gas, is a natural gas which acts as a fuel source under pressure. It remains colourless, odourless and non-corrosive.
CNG is mostly methane, which releases energy when combusted with air. Although CNG can be used in its gaseous or liquid form, most vehicles use the gaseous form compressed to 3000 PSI.
The History of Compressed Natural Gas As Fuel ⛽
The use of CNG dates back to the early 20th century.
In 1901, the first recorded use of natural gas as a vehicle fuel was in St. Louis, Missouri when a natural gas-powered taxi was introduced.
However, the early adoption in vehicles was limited due to the limited availability of natural gas and the lack of a suitable distribution network.
Going further, from 1930, the use of natural gas as a fuel source gained momentum especially during World War II when natural gas was used to power vehicles due to gasoline and diesel fuel shortages.
The 1980s saw a significant increase in the use of CNG as a fuel source, with the widespread adoption of CNG-powered vehicles in countries like Italy and Argentina.
Advances in CNG storage and delivery technology, as well as increased environmental awareness from the 1980s to 2000s led to a further increase in the popularity of CNG as a fuel source.
Today, CNG is widely used as a fuel source for vehicles, industrial processes, and heating in many countries worldwide.
Advantages and Disadvantages of Using CNG
Some of the pros of CNG includes but not limited to the following:
Improved engine performance
Abundant supply
Environmentally friendly
Cleaner burning
Lower cost
The cons are also listed as follows:
Limited CNG filling stations
Reduced power
Greenhouse gas emissions
Dangerous leaks
High conversion cost
Reduced storage space
Engine warm-up procedure
How to Buy IVM Vehicles Now and Pay in Installments
In case you don't know, Innoson Vehicles Manufacturing (IVM) Company also has a buy now, pay in installments plan.
Click here on how to buy IVM vehicles and pay later.